Bits and Snippets
So no major or earth shattering news so here is just some pieces of several small pieces of news:
We stopped by a friend's place on Saturday on our way to Costco. I think we "caught" them as it took him a long time to get to the door and he was looking a little disheveled. But it turned out they were going too so we waited for them to get ready and we all went together. After dropping $200 we went to Jack Astor's for a yummy lunch. We parted ways after that and the S.O. and went to pick some verticle blinds for our patio doors. We have been here since October and we still have nothing covering them. I think it is about time. I am ordering them today.
My rash is 95% gone! Thank goodness for steroids! My colour is back and the itching is gone. But the predisone did have two side effects: I lost my appetite (which isn't a bad thing really) and I was starting to get irritable. I only was given enough for 5 days so today is my last dose. Thank goodness and I hope it never returns!
My company that I work for is selling off the division I work for. At first I was pretty nervous about what would happen but everyone will think this is good news as we will finally get some attention given to us. We have been put on the back burner for a long time and kind of forgotten about but now we will be able to get our new equipment and systems, some of which is already in the works. There will be layoffs but everyone seems to think it will be lower and middle management, not the lab personnel. We are what keeps the lab going and we are getting our first set of new analyzers next month, several hundred thousand dollars worth. But if there are a few of us that has to leave, I think a few of us will be taking early retirement packages.
My babysat my niece for 8 hours on Saturday while my sister and BIL were in town for a baseball tourney. It was so fun! She is a great baby and is happy to play by herself. She is finally sitting up on her own now. Last month she just decided to do it. That was it. She is just over 10 months old now. She is definitely not in a rush to crawl and walk I think. :) We had lunch, snacks and a couple of naps and she was happy all day. My sister stopped in a few times between games and our folks came down to watch a few so they stopped by for a bit. It was a great day.
My niece looks so much like my dad. Our family definitely has the stronger family resemblance.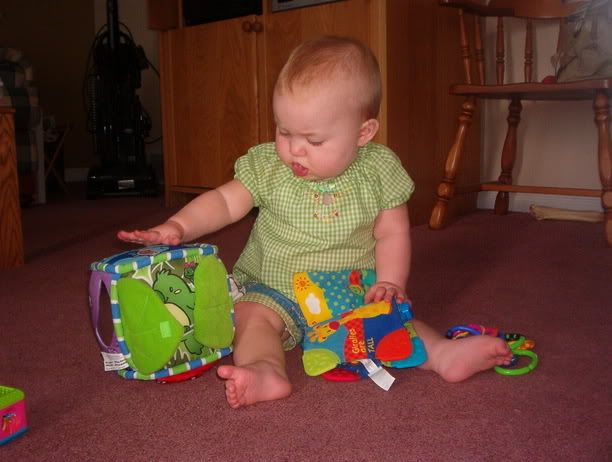 Posting pics through Blogger is really starting to piss me off. After I upload them and click to insert, nothing happens. No link gets inserted into my post. I don't know what is happening but it is getting frustrating. I have tried all weekend to post 12 pics on my other blog and I have only gotten to 6. I think I will just have to link them from my online photo hosting site. Stupid Blogger!